SCL has been involved in the renewable energy sector since 2004.  We have wide ranging experience of working in the onshore wind industry, as well as with hydro power developers.
Our largest client is ScottishPower Renewables – we have delivered long-term work programs on almost all of their operational windfarm sites, and also on many of their development sites.
SCL prefers to contribute from the earliest point in a development project in order to help ensure the best decisions are made from the outset.  We deliver services at all stages of development, including scoping, environmental impact assessment, construction, operations (maintenance & habitat management) and de-commissioning.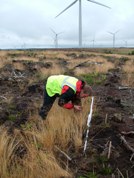 Please visit our Services pages for more details on the range of work we undertake, or our Projects pages to see examples of the way we work with our clients in different sectors.
Read about Conservation & Land Management.