A bridge between science and industry
We have a high level of academic expertise in a wide range of disciplines, but are also very experienced in the workplace notably in industrial settings.  We aim to act as a bridge between science and industry, being able to distil down complex issues for clients at the same time as being able to ensure on behalf of the client that a suitable technical approach is adopted.
Consultants and not just contractors
We aim to provide a genuine consultancy service to our clients, either by specifying our own technical protocols for projects or otherwise by reviewing and then commenting on what the client has already specified.  In this way we ensure the client gets the full benefit of our knowledge and experience.  All too often consultants feel that they can't or shouldn't do this i.e. they work for the client as contractors.
An inter-disciplinary and multi-disciplinary service
We provide a multi-disciplinary service offering, in line with other larger consultancies.  But what makes us different is our approach to our projects.  All disciplines work together in a team environment to design studies and solve problems, and our analyses take account of the complex interactions that can occur in nature between organisms and the physical environment they inhabit.  Our focus is thus on the 'inter-disciplinary spaces' where most of the important environmental processes take place, but few if any academics and practitioners venture.
A focus on technical excellence and statistical rigour
We pride ourselves on our passion for all things technical and statistical, which is obviously important given the type of work we do.  It might surprise you though how few consultancies nowadays have a good grasp of statistical methods or have an interest in the weaknesses of the different techniques they use; all too often, if they do, few seem willing to discuss these weaknesses…
 The importance of site-based investigations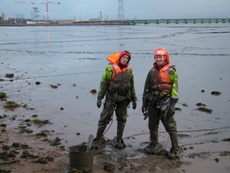 We are passionate about 'hard science' and always strive to ensure we explain to our clients the crucial importance of site-based work.  There are far too many projects being undertaken where fieldwork is a minor element, and where the focus is on analysis, modelling and interpretation of data (often someone else's)…  In essence, if you want to understand an ecosystem and its dynamics then you need to get in amongst it!
Being critical of our methods and data
A key part of the scientific method is to be critical of the approach used and the weaknesses in the work you have undertaken.  And yet science in the commercial environment is often reported on without due cognisance of the problems faced during a study.  We always ensure we make the shortcomings of each study clear in our reports (all studies have them) and make sure the client understands the ramifications of decisions based on data given the range of potential errors present.
Provide operational data and undertake strategic research
A key area of interest for us is the evolution of the SCL: client relationship over time.  The best way to achieve this in our view is to make sure that every bit of work being done ideally feeds into a longer term strategic plan, with the aim being to try and learn more about the ecosystem being managed in order that less work, or better work, can be done in the future.  We achieve this by ensuring that clients understand when additional data gathering, even if not required by them immediately, can be beneficial.  Having adopted this approach with many clients we have found that we can derive large research-standard data sets for relatively little cost.
Passionate problem solvers
We love problem solving, and have the well-developed practical skills and in-depth industrial experience required, in addition to the academic expertise, to do it.  Our favourite type of work comes from clients who are happy to describe their problem to us and then let us get on with solving it for them…
Expertise to work in all environments and (most) weathers
We love being outdoors, with the majority of our staff having operated at one time or another at a high level in a range of outdoor pursuits.  We are therefore well used to being out in all weathers.  As the range of work we undertake is very broad, we often find ourselves working in very difficult environments such as commercial forest crops or high mountain tops in adverse conditions.  It won't always be comfortable for us, but we have the skills and experience to operate safely in adverse conditions as well as to know when not to bother tussling with them…
A clear scope of works and a fixed price
We appreciate the importance of being clear on a task, and being clear on how much it will cost to undertake.  For that reason we produce a written scope of works for each study we undertake, and provide a fixed fee schedule for it.  In this way the client can be sure what they are getting and what it will cost.
Read about our people…